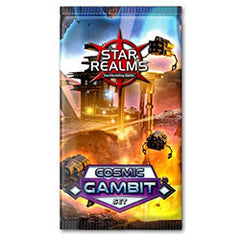 Star Realms Cosmic Gambit
Product is currently unavailable. Please email us @ info[at]woodforsheep.ca with Subject: ORDER Star Realms Cosmic Gambit and we will notify you once this item becomes available. Request Deposit required.
Ages: 12+
Players: 2
Playing Time: 20 minutes
Designer: Darwin Kastle, Rob Dougherty
Publisher: White Wizard Games
Requires: Star Realms
Introduces another set of cards that adds more luck to the game. The gambits in this set function differently than the original Gambits, including entering play hidden. Some actions and bonuses trigger when revealing the Gambit, most have an additional function when scrapping.