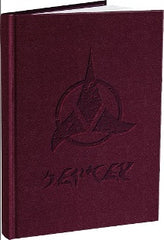 Star Trek Adventures Klingon Empire (Collector's Ed.)
Product is currently unavailable. Please email us @ info[at]woodforsheep.ca with Subject: ORDER Star Trek Adventures Klingon Empire (Collector's Ed.) and we will notify you once this item becomes available. Request Deposit required.
GLORY TO YOU AND YOUR HOUSE!
Take you to the final frontier of the Galaxy, where new worlds and new civilizations await bold Klingon warriors hungry for glory and honor. Your duties may take you to the edges of known space, to Klingon colonies in need, to the borders of neighboring galactic powers, or into the eye of interstellar phenomena. Your warship and crew represent the best-trained and honorable of Klingon warriors, and your cunning and abilities are needed now more than ever. A new threat looms from across the Gamma Quadrant, representing a worthy opponent for the worlds of the Alpha and Beta Quadrants. Tensions are high and it remains to be seen how the Klingon Empire will get involved. It is a volatile time for the Empire as her brave warriors and bold crews ready for battle against whatever foes present themselves.