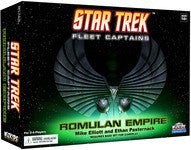 Star Trek Fleet Captains Romulan Empire
Product is currently unavailable. Please email us @ info[at]woodforsheep.ca with Subject: ORDER Star Trek Fleet Captains Romulan Empire and we will notify you once this item becomes available. Request Deposit required.
Ages: 14+
Players: 2 or 4
Playing Time: 60 minutes
Designer: Mike Elliott, Bryan Kinsella, Ethan Pasternack
Publisher: Wiz Kids Games
Requires: Star Trek Fleet Captains
The Romulan Empire expansion set features 12 new Romulan ships molded in color and 10 new Romulan Command Decks. A new game mechanic - Espionage - adds new Missions for your fleet and the new Saboteur crew members allows you to deploy secret agents onto your opponents ships! An updated rulebook includes rules to allow for 3-player games.
Combat | Expansion | Exploration | Modular Board | Sci-fi | Space | Spin-off | Tiles