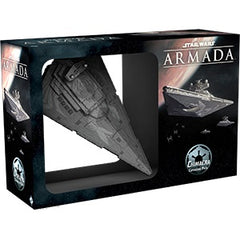 Star Wars Armada Chimaera
Product is currently unavailable. Please email us @ info[at]woodforsheep.ca with Subject: ORDER Star Wars Armada Chimaera and we will notify you once this item becomes available. Request Deposit required.
Ages: 14+
Players: 2
Playing Time: 120 minutes
Designer: James Kniffen, Christian T. Petersen
Publisher: Fantasy Flight Games
Requires: Star Wars Armada
Grand Admiral Thrawn arrives to the battles
Along with the chance to command your fleet with this brilliant, blue-skinned Chiss tactician, this expansion pack introduces an Imperial Star Destroyer adorned with a distinctive chimaera design, two Mandalorian Gauntlet squadrons, six ship cards, and seventeen other upgrades. Altogether, these materials don't just give your Star Destroyer a different aesthetic; they allow it to fill entirely new tactical and strategic roles within your Imperial fleet.
Combat | Expansion | Fantasy Flight Games | Sci-fi | Space | Spin-off | Star Wars | Star Wars Armada