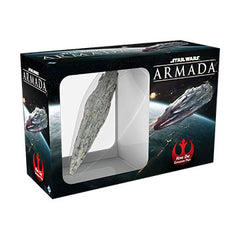 Star Wars Armada Home One
Product is currently unavailable. Please email us @ info[at]woodforsheep.ca with Subject: ORDER Star Wars Armada Home One and we will notify you once this item becomes available. Request Deposit required.
Ages: 14+
Players: 2
Playing Time: 120 minutes
Designer: James Kniffen, Christian T. Petersen
Publisher: Fantasy Flight Games
Requires: Star Wars Armada
Admiral Ackbar and his flagship star cruiser, Home One, arrive!
Featuring one large-size, pre-painted miniature MC80 star cruiser, two ship cards, three command dials, and fourteen upgrades, the Home One Expansion Pack gives the Rebel Alliance a ship that boasts battery armaments of six dice from both its left and right hull zones, making it capable of trading blow for blow with nearly any Imperial vessel and empowering a whole new set of tactics that you can employ in your battles for galactic freedom!
Combat | Expansion | Fantasy Flight Games | Sci-fi | Space | Spin-off | Star Wars | Star Wars Armada