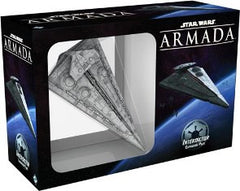 Star Wars Armada Interdictor
Product is currently unavailable. Please email us @ info[at]woodforsheep.ca with Subject: ORDER Star Wars Armada Interdictor and we will notify you once this item becomes available. Request Deposit required.
Ages: 14+
Players: 2
Playing Time: 120 minutes
Designer: James Kniffen, Christian T. Petersen
Publisher: Fantasy Flight Games
Requires: Star Wars Armada
The Interdictor cruiser was designed to be a major part of the Empire's response to the elusive Rebel threat. Its gravity-well projectors are capable of wrenching enemy ships out from hyperspace, and its deployment along one of the galaxy's hyperspace lanes can spell doom for unsuspecting Rebel captains.
Combat | Expansion | Fantasy Flight Games | Sci-fi | Space | Spin-off | Star Wars | Star Wars Armada