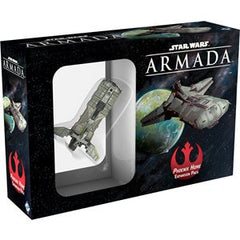 Star Wars Armada Phoenix Home
Product is currently unavailable. Please email us @ info[at]woodforsheep.ca with Subject: ORDER Star Wars Armada Phoenix Home and we will notify you once this item becomes available. Request Deposit required.
Ages: 14+
Players: 2
Playing Time: 120 minutes
Designer: James Kniffen, Christian T. Petersen
Publisher: Fantasy Flight Games
Requires: Star Wars Armada
Under the command of Jun Sato, the Phoenix Home was the nerve center of the fledgling Rebel fleet. What this small-base ship lacks in size and firepower, it makes up with its ability to command your fleet. Along with one pre-painted miniature starship, you will find two ship cards, ten upgrade cards, and all the dials, bases, pegs, and tokens you need to control the battle, more effectively coordinating your capital ships and fighter squadrons alike.
Combat | Expansion | Fantasy Flight Games | Sci-fi | Space | Spin-off | Star Wars | Star Wars Armada