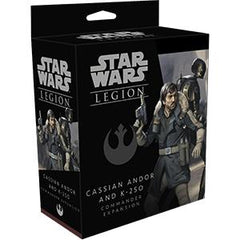 Star Wars Legion Cassian Andor and K-2S0
Product is currently unavailable. Please email us @ info[at]woodforsheep.ca with Subject: ORDER Star Wars Legion Cassian Andor and K-2S0 and we will notify you once this item becomes available. Request Deposit required.
Ages: 14+
Players: 2
Playing Time: 60-120 minutes
Designer: Alex Davy
Publisher: Fantasy Flight Games
Requires: Star Wars Legion
One of the Rebellion's most capable intelligence agents, Cassian Andor has dedicated his life to the cause. Capable of both leading an all-out assault or operating independently on the battlefields, Andor is a versatile addition to any Rebel army. No matter what role you choose for Andor, the reprogrammed KX-series security droid K-2SO is ready to assist in any operation with both his massive strength and tactical analysis.
Combat | Expansion | Fantasy Flight Games | Sci-fi | Space | Spin-off | Star Wars | Variable Player Abilities