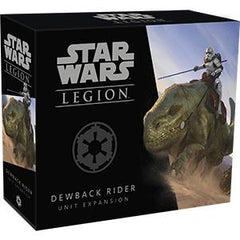 Star Wars Legion Dewback Rider
Product is currently unavailable. Please email us @ info[at]woodforsheep.ca with Subject: ORDER Star Wars Legion Dewback Rider and we will notify you once this item becomes available. Request Deposit required.
Ages: 14+
Players: 2
Playing Time: 60-120 minutes
Designer: Alex Davy
Publisher: Fantasy Flight Games
Requires: Star Wars Legion
The Empire often uses local creatures for its patrols, and in desert environments, Imperial troopers rely on dewbacks, mighty reptilian creatures that can survive extreme temperatures. Between the Sandtrooper rider's array of weapons and the powerful claws of their mount, this duo is a force to be reckoned with.
Within this expansion, you'll find an unpainted, beautifully-detailed Dewback miniature featuring a Sandtrooper rider with four distinct customization options: your Dewback Rider can be built carrying their standard shock prod, or you can equip them with three different weapons. On top of the ability to customize the look of your Dewback Rider, this expansion gives you plenty of ways to tweak how this unit operates in the thick of battle. Six upgrade cards accompany the miniature, letting you modify its armament, training, or the comms systems it carries into battle. Rounding out this expansion are a unit card and all the tokens you need to deploy it as a support unit for your Imperial armies.
Combat | Expansion | Fantasy Flight Games | Sci-fi | Space | Spin-off | Star Wars | Variable Player Abilities