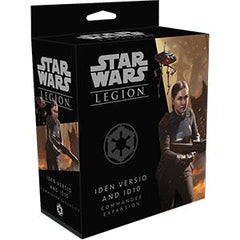 Star Wars Legion Iden Versio & ID10
Product is currently unavailable. Please email us @ info[at]woodforsheep.ca with Subject: ORDER Star Wars Legion Iden Versio & ID10 and we will notify you once this item becomes available. Request Deposit required.
Ages: 14+
Players: 2
Playing Time: 60-120 minutes
Designer: Alex Davy
Publisher: Fantasy Flight Games
Requires: Star Wars Legion
Whether they're battling enemy fighters from the cockpits of their TIE Fighters or on the ground below, Inferno Squad is one of the Empire's most fearsome special forces units and now you can add the leader of this crack team to your Imperial armies. Possessing a keen tactical mind and a deadlier aim, Iden Versio can be an invaluable asset on any mission. Within this expansion, you'll find finely detailed, unpainted hard plastic miniatures of both Iden Versio and her ID10 seeker droid.
Combat | Expansion | Fantasy Flight Games | Sci-fi | Space | Spin-off | Star Wars | Variable Player Abilities