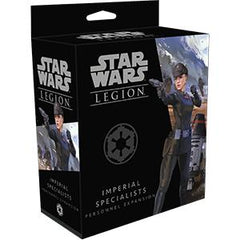 Star Wars Legion Imperial Specialists
Product is currently unavailable. Please email us @ info[at]woodforsheep.ca with Subject: ORDER Star Wars Legion Imperial Specialists and we will notify you once this item becomes available. Request Deposit required.
Ages: 14+
Players: 2
Playing Time: 60-120 minutes
Designer: Alex Davy
Publisher: Fantasy Flight Games
Requires: Star Wars Legion
Armies are more than just soldiers. To wage an effective war across the countless battlefields of the Galactic Civil War, the Galactic Empire needs recruits who can do more than fight.
This expansion contains four finely sculpted Imperial Specialist miniatures, along with new unit, upgrade and command cards. This expansion allows a player to field a generic Imperial commander unit and to add a comms specialist, medical droid, and astromech droid to other units in their army.
Support your squads with the four unique, highly detailed Imperial Specialist miniatures included in this expansion! An Imperial officer orders her troops into battle, while a comms technician stands ready to relay those orders across the battlefield. Finally, an R4 astromech droid and a FX-9 medical droid ensure that your vehicles and troopers are kept ready for action.
Combat | Expansion | Fantasy Flight Games | Sci-fi | Space | Spin-off | Star Wars | Variable Player Abilities