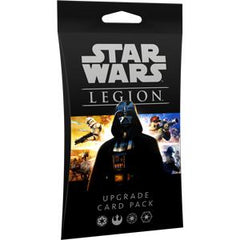 Star Wars Legion Upgrade Card Pack
Product is currently unavailable. Please email us @ info[at]woodforsheep.ca with Subject: ORDER Star Wars Legion Upgrade Card Pack and we will notify you once this item becomes available. Request Deposit required.
Ages: 14+
Players: 2
Playing Time: 60-120 minutes
Designer: Alex Davy
Publisher: Fantasy Flight Games
Requires: Star Wars Legion
Selecting the troops that you'll lead into battle is only the first step in creating your own army. Once you've supplemented your armies with fresh recruits, you can further enhance them with the addition of upgrade cards. Each upgrade unlocks new tactical possibilities for your army, giving you the freedom to customize your units to meet your individual preferences.
While every Unit Expansion contains a variety of upgrade cards that help enhance that particular unit's natural abilities, this conveniently puts a vast library of upgrade cards at your fingertips no matter which faction you play.
Combat | Expansion | Fantasy Flight Games | Sci-fi | Space | Spin-off | Star Wars | Variable Player Abilities