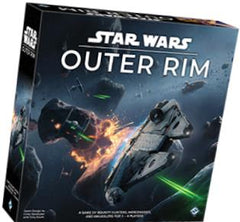 Star Wars Outer Rim
Product is currently unavailable. Please email us @ info[at]woodforsheep.ca with Subject: ORDER Star Wars Outer Rim and we will notify you once this item becomes available. Request Deposit required.
Ages: 14+
Players: 1-4
Playing Time: 120-180 minutes
Designer: Corey Konieczka, Tony Fanchi
Publisher: Fantasy Flight Games
Take on the role of an underworld denizen, setting out to make your mark on the galaxy. You'll travel the outer rim in your personal ship, hire legendary Star Wars characters to join your crew, and try to become the most famous (or infamous) outlaw in the galaxy!
But it won't be easy, the warring factions of the galaxy roam the outer rim, hunting down the scum that have proven to be a thorn in their side, and other scoundrels looking to make their mark see you as the perfect target to bring down to bolster their own reputation. Do you have what it takes to survive in the outer rim and become a living legend?
Draft | Exploration | Fantasy Flight Games | Modular Board | Sci-fi | Space | Spin-off | Star Wars | Variable Player Abilities