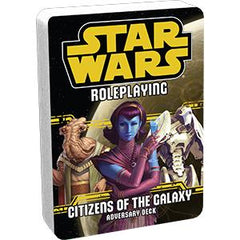 Star Wars Roleplaying Citizens of the Galaxy
Product is currently unavailable. Please email us @ info[at]woodforsheep.ca with Subject: ORDER Star Wars Roleplaying Citizens of the Galaxy and we will notify you once this item becomes available. Request Deposit required.
Populate your Star Wars universe with a whole range of potential allies, enemies, and contacts. Adversary cards work with all three of the Star Wars roleplaying systems and present all your adversaries' key statistics and information in an easily accessible fashion. Meanwhile, their art and description text help you set the scene and flesh out your NPCs' personalities.
There is no end to the variety of species and individuals you can meet if you travel far enough from home. Throughout the various sectors of the Galactic Empire and beyond, you'll find potential allies and enemies waiting around every corner…
With its twenty detailed NPCs, this deck allows you to flesh out your campaigns and settings with rich details, oftentimes in ways that can easily transform a random encounter into the start of a fantastic adventure. As your characters wander the galaxy they are sure to run into a variety of individuals, all of whom are bound to have their own needs, desires, and secrets: a physician at a struggling medcenter, a comm operator at the local space station, an aspiring Twi'lek dancer in a slummy cantina, a Lutrillian merchant at the marketplace. These characters may offer vital information, become important allies, or make surprisingly dangerous enemies.