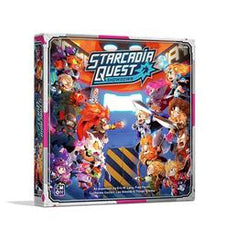 Starcadia Quest Showdown
Product is currently unavailable. Please email us @ info[at]woodforsheep.ca with Subject: ORDER Starcadia Quest Showdown and we will notify you once this item becomes available. Request Deposit required.
Ages: 13+
Players: 2-4
Playing Time: 60 minutes
Designer: Leo Almeida, Thiago Aranha,
Guilherme Goulart, Eric M. Lang,
Fred Perret
Publisher: Cool Mini Or Not
Requires: Arcadia Quest or Starcadia Quest
This is not about going on an arduous quest to defeat evil monsters, no siree!
Introducing a new mode: full Player-versus-Player deathmatches that will see players draft & pick all-new Upgrade tokens and enter a vicious arena to battle enemy Crews!
Adventure | Anime | Bundle | Combat | Expansion | Modular Board | Sci-fi | Variable Player Abilities