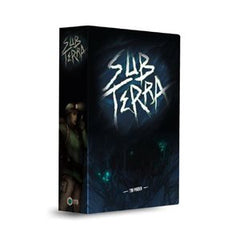 Sub Terra
Product is currently unavailable. Please email us @ info[at]woodforsheep.ca with Subject: ORDER Sub Terra and we will notify you once this item becomes available. Request Deposit required.
Ages: 10+
Players: 1-6
Playing Time: 45-90 minutes
Designer: Tim Pinder
Publisher: Inside the Box
Escape an unexplored network of subterranean tunnels!
The lights are beginning to flicker out and the darker things beneath the Earth are catching up to you... Can you reach safety and escape the caves?
Players spend their turn exploring and revealing the tunnel system around them, attempting to survive the various perils of the cave, from floods and cave ins to gas leaks and scree. Players each have a role which gives them specialist abilities, such as an Engineer with dynamite to blast a new route or a Scout to find a route more easily.
At the end of each turn, players face the reality of their situation, with a hazard card drawn to determine what danger causes them damage or cuts off their way out of the horror below.
These cards are finite, and when they run out, the torches flicker and the air feels tight, and the chance of survival diminishes quickly.
Cooperative | Exploration | Horror | Maze | Modular Board | Tiles | Variable Player Abilities