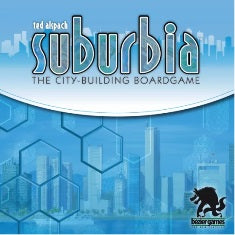 Suburbia (2021)
Ages: 8+
Players: 1-4
Playing Time: 90 minutes
Designer: Ted Alspach
Publisher: Bezier Games
Plan, build, and develop your small borough into a major metropolis. Use hex-shaped building tiles to add residential, commercial, civic, and industrial areas, as well as special points of interest that provide benefits and take advantage of the resources of nearby boroughs.
A tile-laying game in which each player tries to build an economic engine and infrastructure that will be self-sufficient, and eventually become both profitable and encourage population growth. As your income increases, you'll have more cash to purchase better buildings, such as an international airport or a high rise office building. As your reputation increases, the population will grow as well.
The player with the largest population wins!