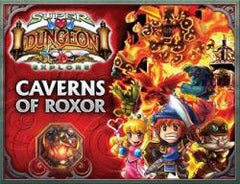 Super Dungeon Explore Caverns of Roxor
Product is currently unavailable. Please email us @ info[at]woodforsheep.ca with Subject: ORDER Super Dungeon Explore Caverns of Roxor and we will notify you once this item becomes available. Request Deposit required.
Ages: 10+
Players: 2-6
Playing Time: 90 minutes
Designer: Chris Birkenhagen, John Cadice, Deke Stella
Publisher: Soda Pop Miniatures
Requires: Super Dungeon Explore
Into the Fiery Depths! Delve into the next level with Caverns of Roxor, the first major expansion to Super Dungeon Explore. Expand game play for both Hero and Consul players, and build your battle strategy with new monsters, heroes, and treasures.
Anime | Dungeon Crawling | Expansion | Exploration | Fantasy | Team Play