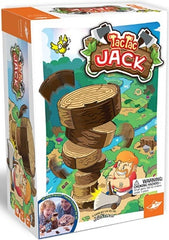 Tac Tac Jack
Product is currently unavailable. Please email us @ info[at]woodforsheep.ca with Subject: ORDER Tac Tac Jack and we will notify you once this item becomes available. Request Deposit required.
Ages: 5+
Players: 2-7
Playing Time: 10 minutes
Designer: Justin Oh
Publisher: Foxmind
Players hit the tree with the axe to gather bark blocks, which are worth 1 point each. They must also avoid removing Core Blocks, which are worth 5 negative points. At the end of the game, the player with the most points wins. So, chop carefully and try only to collect bark pieces.