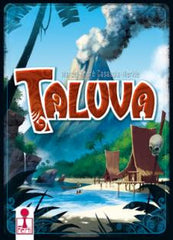 Taluva
Product is currently unavailable. Please email us @ info[at]woodforsheep.ca with Subject: ORDER Taluva and we will notify you once this item becomes available. Request Deposit required.
Ages: 10+
Players: 2-4
Playing Time: 40 minutes
Designer: Marcel-André Casasola Merkle
Publisher: Ferti
In Taluva, players place tiles consisting of volcanoes and other terrain. Tiles can be placed adjacent to other tiles or on top of other tiles. Thus, the island expands outward and upward during the course of the game. At the same time, the players are trying to settle their peoples on the island by building huts, temples and towers. Each building type has a different restriction regarding placement. The game ends when all the land tiles have been played or when a player builds all of his buildings in two of the three types.