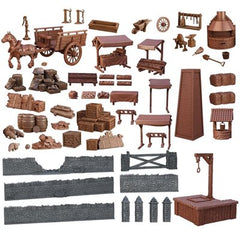 TerrainCrate Town Centre
Product is currently unavailable. Please email us @ info[at]woodforsheep.ca with Subject: ORDER TerrainCrate Town Centre and we will notify you once this item becomes available. Request Deposit required.
Everything you need to build a sprawling marketplace at the centre of a fantasy town; this set includes market stalls, piles of stock, rats, walls, a gallows, stocks, a blacksmith's and so much more!
This set contains 69 pre-coloured pieces of plastic terrain.