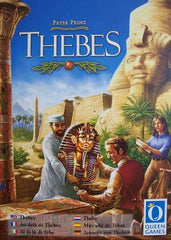 Thebes
Product is currently unavailable. Please email us @ info[at]woodforsheep.ca with Subject: ORDER Thebes and we will notify you once this item becomes available. Request Deposit required.
Ages: 10+
Players: 2-4
Playing Time: 60 minutes
Designer: Peter Prinz
Publisher: Queen Games
A game of competitive archeology. Players are archaeologists who must travel around Europe, northern Africa, and the Middle East to acquire knowledge about five ancient civilizations - the Greeks, the Cretans, the Egyptians, the Palestinians, and the Mesopotamians -- and then must use this knowledge to excavate historical sites in the areas of these civilizations. Through the course of the game, expositions are revealed, and an archaeologist who has treasures from the requisite civilizations may claim the prize (this is a change from the first edition's handling of exhibitions). The archaeologist who learns the most about the civilizations, claims the greatest-valued artifacts, and collects the most exhibitions will win out over his or her colleagues.