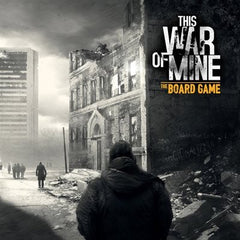 This War of Mine
Product is currently unavailable. Please email us @ info[at]woodforsheep.ca with Subject: ORDER This War of Mine and we will notify you once this item becomes available. Request Deposit required.
Ages: 18+
Players: 1-6
Playing Time: 45-120 minutes
Designer: Michał Oracz, Jakub Wiśniewski
Publisher: Awaken Realms
You will enter this experience as a group of civilians trapped in a besieged and conflict-ridden city, enduring many hardships that often test the essence of humanity.
During day time you will take shelter in a ruined tenement house, which you will care about and manage.
Upon nightfall your main duties will consist of guarding your shelter and what little possessions you can accumulate against bandits and raiders. Those in your group fit for such a task will use the cover of the night to carefully explore dozens of the ever-changing locations scattered throughout the dangerous city in search of all the things that a person needs to survive.
Your goal is to SURVIVE until the cessation of war hostilities. During your struggle as the survivors, you will experience dramas connected with making extremely difficult decisions and choices. Survival itself will often prove not to be enough. The price each of you will decide to pay, might be too high in the final outcome. So the goal is really to survive in a way that will let you live on with the decisions you made.
Experience the simulation of a struggle for survival as a group of civilians facing a blind and merciless war.
In war, not everyone is a soldier.
Adventure | Cooperative | Exploration | Role/Phase Selection | Spin-off | Survival | Variable Player Abilities