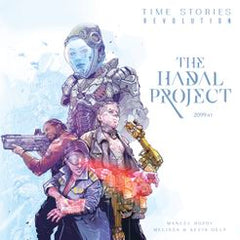 TIME Stories Revolution Hadal Project
Ages: 10+
Players: 2-4
Playing Time: 60-180 minutes
Designer: Kevin Delp, Melissa Delp,
Manuel Rozoy
Publisher: Space Cowboys
Experience adventures through time and multiple realities.
You are a temporal agent of TIME, an organization at the service of humanity. Time travel is now a reality and you are one of the regulators. Due to recent events, TIME had to modify its operations in depth. It still uses receptacles, but time travel now exploits a technology that combines the very advanced science of the 22nd century with strange esoteric methods passed on by the mysterious Syanns.
This mission sends the agents on the trail of a mysterious epidemic ravaging the earth's population, and in places beyond imagination.
In this scenario, the agents are sent to an underwater base located at the bottom of the Atlantic Ocean.
Adventure | Cooperative | Sci-fi | Variable Player Abilities