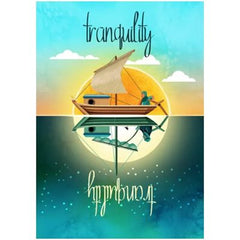 Tranquility
Product is currently unavailable. Please email us @ info[at]woodforsheep.ca with Subject: ORDER Tranquility and we will notify you once this item becomes available. Request Deposit required.
Ages: 8+
Players: 1-5
Playing Time: 15-20 minutes
Designer: James Emmerson
Publisher: Lucky Duck Games
Jump on board the good ship Tranquility and set sail for paradise. Take care, though, because in a land where the day blends into night it's easy to lose track of time and you still need to find that special little island to call home.
A co-operative card game in which players must fill the sea with islands — specifically island cards with numbers on them — and guide the ship home before any player runs out of cards. Note that in the world, the only way to play is in silence.