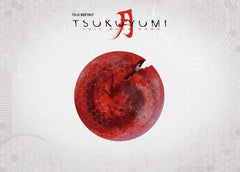 Tsukuyumi (KS Bundle)
Ages: 14+
Players: 3-5
Playing Time: 90-150 minutes
Designer: Felix Mertikat
Publisher: Grey Fox Games
Slowly but steadily, the Moon has been approaching the Earth. It has touched the surface and ripped a deep rift across continents, mountain ranges and oceans. It has come to a halt in the now dried-out Pacific Ocean. Chaos and devastation wrecked the Earth and its inhabitants. That chaos grew greater when the Moon revealed itself to be a "kami" (a Japanese God of old) - the white dragon TSUKUYUMI. Exiled into the night sky eons ago, TSUKUYUMI has been roused by Japanese warriors, who tried to rid themselves of their godly creators. TSUKUYUMI'S time for revenge has finally come...
In the post-apocalyptic world, humankind is on the verge of extinction, whereas animal species mutated under the influence of TSUKUYUMI and grew bigger and stronger than ever. All those different factions are now fighting fiercely for survival, as well as for world domination.
A no-luck boardgame, that demands specific strategic skills of its players. Its particular appeal lies in the clash of multifarious, asymmetrical factions. At the beginning, each player picks one of the five factions. The factions bring their own respective abilities, units and strategies. Therefore the game changes depending on what factions meet on the battlefield.
Values and abilities of the factions still don't guarantee victory. It's the players who find new combinations and the right moments to use specific faction features, who notice their fellow players' weaknesses and use them to their own advantages. This way, they shape their faction and bring the creatures and their stories to life.
This bundle includes:
Expansion packs
Double Sided Playmat
Art Book
Leadership cards
Area Control | Combat | Draft | Fantasy | Modular Board | Mythology | Sci-fi | Variable Player Abilities