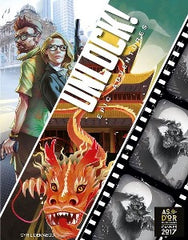 Unlock Epic Adventures
Ages: 10+
Players: 1-6
Playing Time: 60-90 minutes
Designer: Cyril Demaegd, Guilaine Didier,
Gabriel Durnerin, Théo Rivière
Publisher: Space Cowboys
This is part of a series of escape adventures for up to six players. With one hour on the clock, players work through a deck of sixty cards as a team, searching for clues, combining objects, and solving puzzles. The free companion app runs the timer while also providing clues, offering hints, and confirming successes. Once the team has reached a solution and entered the correct code into the app, they will escape and win the game!
Included scenarios are:
The Seventh Screening - Grab your popcorn! Tonight, the horror movie "The Werewolf's Final Night" premiers. Will you make it through unharmed?
The Dragon's Seven Tests - Every seven years The Gold Dragons temple welcomes new disciples. Will you be worthy of Mater Li's teachings.
Mission #07 - EAGLE, the secret organization, has been infiltrated. Agents, it's up to you to identify the mole!
Asmodee | Cooperative | Deduction | Escape Room Variant | Unlock