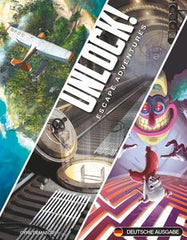 Unlock Escape Adventures
Ages: 10+
Players: 1-6
Playing Time: 60 minutes
Designer: Alice Carroll, Thomas Cauët,
Cyril Demaegd
Publisher: Space Cowboys
This is part of a series of escape adventures for up to six players. With one hour on the clock, players work through a deck of sixty cards as a team, searching for clues, combining objects, and solving puzzles. The free companion app runs the timer while also providing clues, offering hints, and confirming successes. Once the team has reached a solution and entered the correct code into the app, they will escape and win the game!
Included scenarios are:
"The Formula": you enter a secret laboratory to recover a mysterious serum that has been developed by a scientist. Will you solve all the riddles and get out in less than an hour?
"Squeek & Sausage": you need to thwart the plans of the despicable Professor Noside!
"The Island of Doctor Goorse": you must visit the island of an eccentric antique collector billionaire and overcome its traps!
Asmodee | Cooperative | Deduction | Escape Room Variant | Unlock