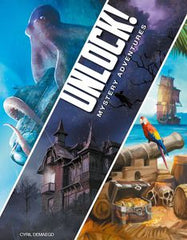 Unlock Mystery Adventures
Ages: 10+
Players: 1-6
Playing Time: 60 minutes
Designer: Arnaud Ladagnous, Fabrice Mazza,
Sébastien Pauchon, Billy Stevenson
Publisher: Space Cowboys
This is part of a series of escape adventures for up to six players. With one hour on the clock, players work through a deck of sixty cards as a team, searching for clues, combining objects, and solving puzzles. The free companion app runs the timer while also providing clues, offering hints, and confirming successes. Once the team has reached a solution and entered the correct code into the app, they will escape and win the game!
Included scenarios are:
"The House on the Hill": What's going on in this run-down manor? Explore the sinister pieces and foil the curse that haunts this desolate place.
"The Nautilus' Traps": Attacked by a sea monster during a dive, you seek shelter by opening a hatch in an old submarine. Find a way back to the surface!
"The Tonipal's Treasure": Captain Smith hid his treasure on Tonipal Island. Unravel the mystery before Johnson, another treasure hunter, beats you to it!
Asmodee | Cooperative | Deduction | Escape Room Variant | Unlock