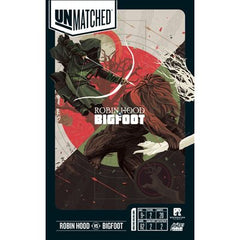 Unmatched Battle of Legends Robin Hood Vs Bigfoot
Product is currently unavailable. Please email us @ info[at]woodforsheep.ca with Subject: ORDER Unmatched Battle of Legends Robin Hood Vs Bigfoot and we will notify you once this item becomes available. Request Deposit required.
Ages: 9+
Players: 2
Playing Time: 20-40 minutes
Designer: Rob Daviau, Justin D. Jacobson
Publisher: Mondo
In battle, there are no equals.
A highly asymmetrical miniature fighting game for two or four players. Each hero is represented by a unique deck designed to evoke their style and legend. Tactical movement and no-luck combat resolution create a unique play experience that rewards expertise, but just when you've mastered one set, new heroes arrive to provide all new match-ups.
Robin Hood and his outlaws excel at ranged attacks and robbing from their opponents. Bigfoot and his pal, the Jackalope, crash through the forest for quick attacks before disappearing like a figment of the mind.
Combat | Resource Management | Spin-off | Variable Player Abilities