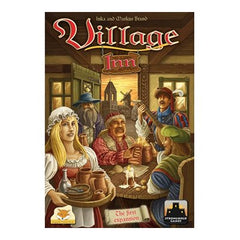 Village Inn
Product is currently unavailable. Please email us @ info[at]woodforsheep.ca with Subject: ORDER Village Inn and we will notify you once this item becomes available. Request Deposit required.
Ages: 12+
Players: 2-5
Playing Time: 80 minutes
Designer: Inka Brand, Markus Brand
Publisher: Stronghold Games
Requires: Village
The Village is bustling. Make a name for yourself by rubbing elbows and sharing a drink at the inn!
Village Inn offers players all new options on their path to glory:
brewing beer at the brewery
spending beer and gold at the inn to meet influential people
acquiring villager cards, each with a unique ability
More options, new strategies, an additional player, and beer. Life got more interesting when the Village Inn opened it's doors!