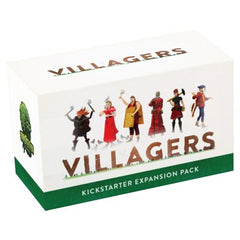 Villagers Expansion Pack
Product is currently unavailable. Please email us @ info[at]woodforsheep.ca with Subject: ORDER Villagers Expansion Pack and we will notify you once this item becomes available. Request Deposit required.
Ages: 10+
Players: 1-5
Playing Time: 30-60 minutes
Designer: Haakon Gaarder
Publisher: Sinister Fish
Requires: Villagers
Adds four modular mini-expansions to Villagers:
Saints are 5 new villagers who help the player in some way.
Scoundrels add a little bit of meanness to the game, with 7 new villagers who employ a variety of underhanded tricks.
Profiteers introduces 6 new villagers and a new scoring mechanism: bronze coins, which score at the end of every round.
Developments brings an entirely new element to the game: deal out 3 Development cards at the start of the game and compete for control of them and the bonuses they provide.