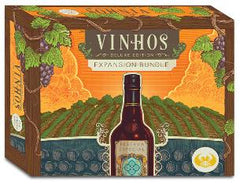 Vinhos Deluxe Expansion Bundle
Product is currently unavailable. Please email us @ info[at]woodforsheep.ca with Subject: ORDER Vinhos Deluxe Expansion Bundle and we will notify you once this item becomes available. Request Deposit required.
Ages: 14+
Players: 1-4
Playing Time: 60-135 minutes
Designer: Vital Lacerda
Publisher: Fred Distribution
Requires: Vinhos Deluxe
Islands - Take trips to the Acores and Madeira Islands. Each island adds a new region, increasing game replayability
Connoisseur - A pack of new and varied expansion tiles, including a tough new Weather tile, Ocean tiles to improve play with fewer players, and new Wineries, Vineyards and Cellars.
Tasting Room - Expand your experience with these upgraded components. Tourists introduce a new gameplay feature. Includes wooden bottles and wine barrels, a display rack, Tourist meeples, and wooden Wineries.
Experts - Advertisers, Marketers, Salesmen, Spies, Meteorologists, Reviewers, Estate Managers and Public Relations Advisors all become available to you, increasing gameplay variability and replayability.
Area Control | Business Building | Economic | Expansion | Role/Phase Selection