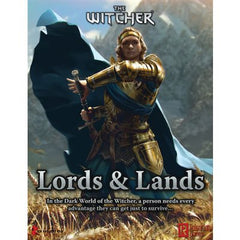 Witcher RPG Lords & Lands
Product is currently unavailable. Please email us @ info[at]woodforsheep.ca with Subject: ORDER Witcher RPG Lords & Lands and we will notify you once this item becomes available. Request Deposit required.
Contains new information for players and Gamemasters alike.
The sturdy 3mm cardstock Gamemaster screen provides important reference information to streamline the game experience, as well as statistics of "Everyman NPCs" to populate the Continent in a hurry.
The expansion's 16-page softcover booklet includes new content: new playable race - Halflings, new Noble Profession and new weapons, alchemical items, general gear.
Expansion | Exploration | Fantasy | Roleplaying | Spin-off