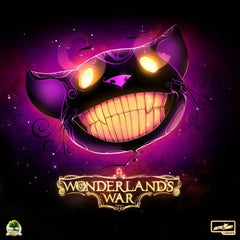 Wonderland's War
Product is currently unavailable. Please email us @ info[at]woodforsheep.ca with Subject: ORDER Wonderland's War and we will notify you once this item becomes available. Request Deposit required.
Ages: 13+
Players: 2-5
Playing Time: 45-125 minutes
Designer: Tim Eisner, Ben Eisner,
Ian Moss
Publisher: Skybound
The Looking Glass has shattered, madness is being drained from the inhabitants, and war has come to Wonderland. Alice, Mad Hatter, Red Queen, and Jabberwock must gather all that they can while playing nice at the Hatter's Tea Party before going to battle.
Area Control | Deck Construction Variant | Draft | Fairy Tale