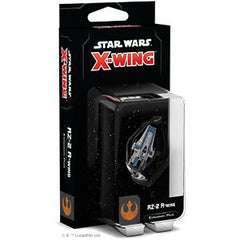 X Wing (2018) RZ-2 A-Wing
Product is currently unavailable. Please email us @ info[at]woodforsheep.ca with Subject: ORDER X Wing (2018) RZ-2 A-Wing and we will notify you once this item becomes available. Request Deposit required.
Ages: 14+
Players: 2
Playing Time: 20 minutes
Designer: Jason Little
Publisher: Fantasy Flight Games
Requires: X-Wing (Second Edition)
The main interceptor of the Resistance, the RZ-2 A-wing by Kuat Systems Engineering is the natural evolution of its predecessor. With field-tested refinements integrated into its design such as incredible maneuverability, reversible laser cannons, and precision ordnance, mastering this craft is a challenge worthy of the greatest aces.
With six ship cards—including four unique pilots—and five upgrade cards, plus the maneuver dial and tokens included in this expansion pack, giving you everything you need to stand toe-to-toe with the First Order's best!
Combat | Expansion | Fantasy Flight Games | Pre-Painted | Sci-fi | Space | Spin-off | Star Wars | X-Wing