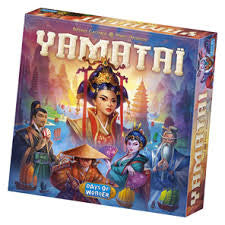 Yamatai
Product is currently unavailable. Please email us @ info[at]woodforsheep.ca with Subject: ORDER Yamatai and we will notify you once this item becomes available. Request Deposit required.
Ages: 13+
Players: 2-4
Playing Time: 40-80 minutes
Designer: Bruno Cathala, Marc Paquien
Publisher: Days of Wonder
Build the most prestigious city in your quest to become the Master Builder of a legendary far-eastern kingdom.
Players compete to build palaces, torii, and their own buildings in the land.