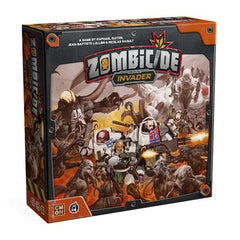 Zombicide Invader
Product is currently unavailable. Please email us @ info[at]woodforsheep.ca with Subject: ORDER Zombicide Invader and we will notify you once this item becomes available. Request Deposit required.
Ages: 14+
Players: 1-6
Playing Time: 60 minutes
Designer: Raphaël Guiton, Jean-Baptiste Lullien,
Nicolas Raoult
Publisher: Guillotine Games
Players must work together if they want to survive the onslaught of murderous aliens. Over the course of several interlocked missions, they must make their way through the tunnels and ruined mining outposts on the planet, leveling up their skills as they go along, looking for gear, and staying one step ahead of the Xenos.
Combat | Cooperative | Modular Board | Sci-fi | Survival | Tiles | Variable Player Abilities | Zombies