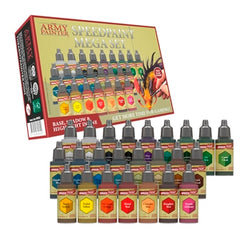 Army Painter Speedpaint Mega Set
Product is currently unavailable. Please email us @ info[at]woodforsheep.ca with Subject: ORDER Army Painter Speedpaint Mega Set and we will notify you once this item becomes available. Request Deposit required.
A one-coat painting solution. Find the entire range of our highly anticipated new Speedpaint formula. Simply apply one rich coat of Speedpaint directly over a primed miniature and you are done!
All of the colours in the Speedpaint range are made with our tried and true high-quality heavy pigments. This, combined with an innovative resin medium solution that flows perfectly over your miniatures, creates an unparalleled painting solution to help you get more time for gaming!