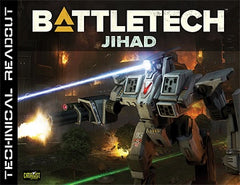 Battletech Technical Readout Jihad
Product is currently unavailable. Please email us @ info[at]woodforsheep.ca with Subject: ORDER Battletech Technical Readout Jihad and we will notify you once this item becomes available. Request Deposit required.
Ages: 8+
Players: 2-5
Play Time: 60 minutes
Designer: Ray Arrastia, Herbert A. Beas II,
Randall N. Bills, Bryan Nystul,
Diane Piron-Gelman, Michael Stackpole,
Chris Trossen, Patrick Wynne
Publisher: Catalyst Games Lab
Requires: Battletech Game of Armored Combat
November 3067 saw the culmination of work two centuries in the making, work begun by Primus Conrad Toyama of ComStar, successor to Jerome Blake and the man responsible for single-handedly turning ComStar into a pseudo-religious organization with a vision: to lead mankind to the light.
Battletech | Combat | Expansion | Robots | Sci-fi | Spin-off