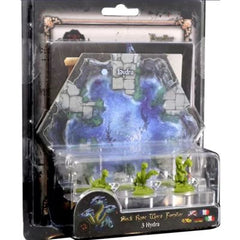 Black Rose Wars Familiars Hydra
Ages: 14+
Players: 1-6
Playing Time: 90 minutes
Designer: Marco Montanaro
Publisher: Ares Games
Requires: Black Rose Wars
Add pets to your games!
If these little animals have nested in your lodge, they may be activated to allow you to choose one of the 3 "familiar" magic cards that will allow you to summon the Familiar.
Once summoned, the Familiar can be placed adjacent to his master using the "half-moon" base (patented in Sine Tempore) and will provide special abilities to their masters. Or you could move these animals freely around the lodge with their own characteristics and skills.
Bluffing | Deck Construction Variant | Expansion | Fantasy | Modular Board | Resource Management | Variable Player Abilities