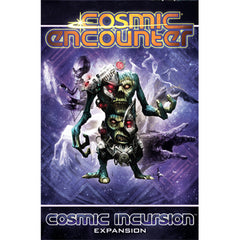 Cosmic Encounter Cosmic Incursion
Product is currently unavailable. Please email us @ info[at]woodforsheep.ca with Subject: ORDER Cosmic Encounter Cosmic Incursion and we will notify you once this item becomes available. Request Deposit required.
Ages: 12+
Players: 3-6
Playing Time: 60 - 90 minutes
Designer: Bill Eberle, Jack Kittredge, Bill Norton, Peter Olotka, Kevin Wilson
Publisher: Fantasy Flight Games
Requires: Cosmic Encounter
In Cosmic Incursion, the exciting expansion for Cosmic Encounter, 20 new alien races explode onto the galaxy! Players will face the sticky terror of the Fungus, scratch their heads at the perplexing Magician, and shudder in fear as the Locust consumes their planets in one gulp.
Cosmic Incursion also makes the Cosmos even bigger, adding a 6th player to the game. Finally, as if that wasn't enough, Cosmic Incursion introduces a new variant to the game - the reward deck, which offers exciting new cards such as kickers and rifts to those aliens who ally with the defense.
Aliens | Combat | Empire Building | Expansion | Fantasy Flight Games | Politics | Sci-fi | Space