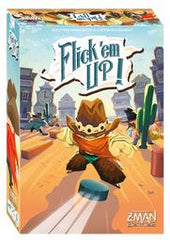 Flick 'em Up (Wider Audience)
Product is currently unavailable. Please email us @ info[at]woodforsheep.ca with Subject: ORDER Flick 'em Up (Wider Audience) and we will notify you once this item becomes available. Request Deposit required.
Ages: 8+
Players: 2-10
Playing Time: 45 minutes
Designer: Gaëtan Beaujannot, Jean Yves Monpertuis
Publisher: Z-man Games
The cities of the West are not the safest place to be. You can chose to be an outlaw and rob banks, free prisoners, attack innocent bystanders and build your reputation as a bandit. Or you could chose to be the Sheriff and vow to protect the people of your city from the bandits that come around! Either way, you will face your enemies in street duels, fight off your opponents, and use different guns and tactics to reach you goals.
This version contains plastic components.