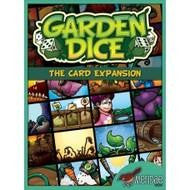 Garden Dice The Card Expansion
Product is currently unavailable. Please email us @ info[at]woodforsheep.ca with Subject: ORDER Garden Dice The Card Expansion and we will notify you once this item becomes available. Request Deposit required.
Ages: 13+
Players: 2-4
Playing Time: 60 minutes
Designer: Doug Bass
Publisher: Meridae Games
Requires: Garden Dice
Families can harvest new levels of fun!
Colorfully illustrated Action Cards give players additional options for strategic play, while Event Cards will unexpectedly change the game environment for all players at once.