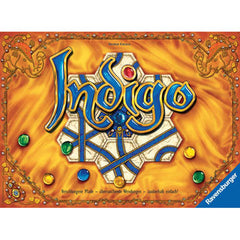 Indigo
Product is currently unavailable. Please email us @ info[at]woodforsheep.ca with Subject: ORDER Indigo and we will notify you once this item becomes available. Request Deposit required.
Ages: 8+
Players: 2-4
Playing Time: 30 minutes
Designer: Reiner Knizia
Publisher: Ravensburger
A tile-laying game where players build paths bit by bit, with no player owning the individual paths and everyone trying to exploit the paths already present. Your goal is to move gemstones from their starting locations on the board to your designated goals, with the player who scores the most points winning the game.