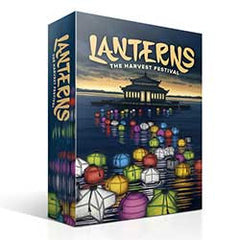 Lanterns The Harvest Festival
Product is currently unavailable. Please email us @ info[at]woodforsheep.ca with Subject: ORDER Lanterns The Harvest Festival and we will notify you once this item becomes available. Request Deposit required.
Ages: 8+
Players: 2-4
Playing Time: 30 minutes
Designer: Christopher Chung
Publisher: Renegade Game Studios
Place tiles, adorn the palace lake, and dedicate lanterns in this beautiful, fast-paced board game set in imperial China.
The harvest is in, and now it's time to celebrate! A tile-placement game set in imperial China. Players act as artisans decorating the palace lake with floating lanterns. The artisan who earns the most honour before the festival arrives wins the game.
Canadian Content | Resource Management | Set Collection | Tiles