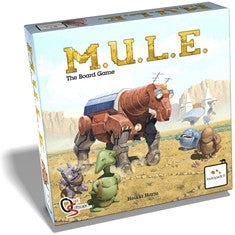 M.U.L.E.
Ages: 14+
Players: 3-4
Playing Time: 90-120 minutes
Designer: Heikki Harju
Publisher: Lautapelit
You are one of the pioneering and industrious species of a Galactic Federation . Together with your fellow colonists, you attempt to settle the distant Planet Irata with the so-called help of a mule-like machine you all learn to hate. But for now, he's all you've got. He and your fellow colonists. I wouldn't count on their help, though. Not unless there's profit.
Good luck. You'll need it.
Auction | Bidding | Economic | Exploration | Role/Phase Selection | Variable Player Abilities