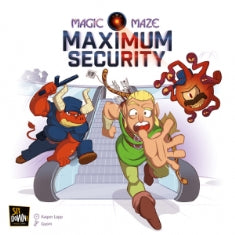 Magic Maze Maximum Security
Product is currently unavailable. Please email us @ info[at]woodforsheep.ca with Subject: ORDER Magic Maze Maximum Security and we will notify you once this item becomes available. Request Deposit required.
Ages: 8+
Players: 1-8
Playing Time: 15 minutes
Designer: Kasper Lapp
Publisher: Dude Games
Requires: Magic Maze
For some time now, the Magic Maze has been regularly robbed by unscrupulous adventurers, who incessantly steal from the same four shops. How strange! Due to this alarming observation, Management has installed new security systems to dissuade any further dishonest deeds.
This expansion not only brings the mall guards of Magic Maze to life, but provides a number of other modules to allow you to customize your experience. There are two different types of modules: helpers and challenges, which decrease or increase the difficulty. You will be guided step by step through all of the modules, and each of them comes with a tutorial that will help you practice the new rules before adding it to your "real" games of Magic Maze.
Cooperative | Expansion | Exploration | Fantasy | Reaction | Variable Player Abilities