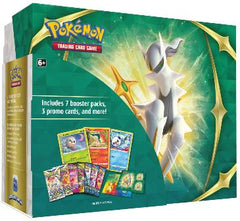 Pokemon Collector Bundle
Product is currently unavailable. Please email us @ info[at]woodforsheep.ca with Subject: ORDER Pokemon Collector Bundle and we will notify you once this item becomes available. Request Deposit required.
Ages: 7+
Players: 2
Playing Time: 20 minutes
Designer: Takumi Akabane, Tsunekaz Ishihara
Publisher: Pokemon
Requires: Starter Deck
The object of the game is to play your Pokémon cards, that represent different creatures, to battle against each other. The first player to "knock out" (defeat) six opposing Pokémon wins the game. You play the game with a deck of sixty cards that represent your Pokémon, as well as Trainer cards and Energy cards. Trainer cards affect the game, players or Pokémon in different ways, most of them temporary, while Energy cards act as the resources in the game.