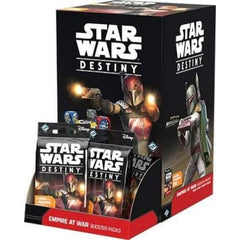 Star Wars Destiny Empire At War Booster Display {C}
Ages: 10+
Players: 2-4
Playing Time: 10-45 minutes
Designer: Corey Konieczka, Lukas Litzsinger
Publisher: Fantasy Flight Games
Requires: Star Wars Destiny Starter
Customize your decks and enter the game at your own pace!
Empire at War emulates the chaos found in the Star Wars galaxy during its darkest times with themes that disrupt your opponent's board and decimate their best laid plans.  These 160 brand new cards will focus on taking core concepts of Star Wars: Destiny and throwing them into disarray.
Empire at War brings the thrilling action of Star Wars Rebels to the tabletop. Join the crew of the Ghost and their adversaries as they join the epic duels taking place across every era of the Star Wars saga.
Every booster pack includes five randomized cards and one premium die, broken down into three common cards, one uncommon card, and one rare or legendary card with a corresponding die. All cards that feature a corresponding die are either rare or legendary cards. With every booster pack, you'll find new characters, supports, upgrades, or events, along with new ways to enter the Star Wars galaxy and fight for your chosen side!
There are 36 booster packs included in each display.